Hydrabyss is one of the
Legendary Monsters
along with Terrahorn. He can be summoned at Water Sanctuary on Water Island.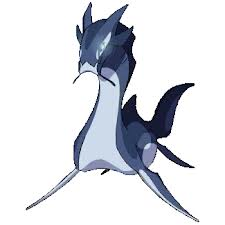 Location
Hydrabyss is the Legendary Monster of Water Island. He can be summoned after collecting all five stones by beating the bosses or from a chest.
Information
You must have version 3.0 to acquire this Mino.
Hydrabyss can be reached in the legendary part of the water islands, only after acquiring all the five legendary stones from battling the bosses of the water island. When going to the legendary area on the water island, you will see a floating summon dialog box if you have all 5 of the water stones required to summon him. This box only appears if you already do not own a water guardian, meaning without releasing him, you cannot fight him again.
Please note, it appears you have to be connected to the internet after the battle, as the game immediately starts downloading something afterwards. This process seems to cause you to re-download all the minos you already owned again.
With the five Legendary Stones gathered, Hydabyss can be summoned from the legendary "map" on the island select stage. Once it is defeated, it can be tamed and joins the player's team. It returns to a statue whenever it is idle and out of battle.
When viewing its entry in the MinoMonster list, it is noted as being a balanced monster. Further, Hydrabyss's level appears as ??. It does not appear to be able to gain levels.
After defeating the Hydrabyss, you win the Guardian on the lvl 15
Attacks
| Name | Unlocked | Type | Power | Energy | Cost |
| --- | --- | --- | --- | --- | --- |
| Water Beam | Level 5 | Water | 110 (starting), 120 (100 sc), 130 (1300 sc), 140 (5300 sc) | 2 | 7 SC |
| Spouts | Level 12 | Water | 165 (starting), 180 (100 sc), 195 (1700sc) | 4 | 25 SC |
| Hydrosurge | Level 25 | Water | 220 (starting), 240 (35 sc), 260 (2150 sc) | 6 | 35 SC |
Perks
| Name | Unlocked | Description | Cost |
| --- | --- | --- | --- |
| Thick Skinned | Level 5 | Increases Maximum Health by 10% | 25 SC |
| Bubbly Respite | Level 5 | heals a small amount when using Bubble strike | 25 SC |
Upgrades
The costs associated with upgrading this mino are listed above. SC means Star Coins. Each attack only has two dots for rank up.
Until you fight with it for the first time, Hydrabyss will say it has updates even if you have purchased all of them.
Ad blocker interference detected!
Wikia is a free-to-use site that makes money from advertising. We have a modified experience for viewers using ad blockers

Wikia is not accessible if you've made further modifications. Remove the custom ad blocker rule(s) and the page will load as expected.