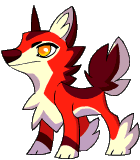 Puprus

Idle PoseIdle Pose - Battle PoseBattle Pose

Type

Fire

Evolution

Evolves into Pyrus at Lv.25
Location
Earth Island
Resemblence
Wolf Pup
Rarity
Rare
Description: "Puprus can often be found chasing Minos with a flaming stick in his mouth. He's just trying to play fetch."
Puprus is a wolf-like fire Mino that can be found on Earth Island, first appearing in the 1.1.0 update that went public in August 2012.
Location
This monster may be encountered at Level 18 in the Desert Area on Earth Island, and it can then be tamed for 1,630 Star Coins.
Attack/Perks
Attack:
Fire Bark (Elemental)
Power: 100
Energy Required: 2
Perks:
Ablaze: It deals damage when enemies attack.
Undying Flame: The Mino has a chance of surviving fatal attacks.
Ad blocker interference detected!
Wikia is a free-to-use site that makes money from advertising. We have a modified experience for viewers using ad blockers

Wikia is not accessible if you've made further modifications. Remove the custom ad blocker rule(s) and the page will load as expected.